Profile

Welcome to AvantaLand
In a big country, dreams stay with you.
Free Account
Created on 2017-01-25 20:19:07 (#2785743), last updated 2017-01-25 (34 weeks ago)
7,393 comments received, 0 comments posted
1,865 Journal Entries, 160 Tags, 0 Memories, 1 Icon

About

Mini Bio
I'm a native Californian who has deliberately chosen to live in the Deep South. Married, no children; however, we have two cats, two Pomeranians, and several nieces and nephews.
Other pertinent stuff: Sober since age 29 (sobriety date July 26, 1991 -- you do the math [grin]); Methodist; soprano; liberal; actress (regional theatre); ex-smoker; wannabe gardener; introvert; yarn hoarder; knit and crochet fiend; This Old House fan and History Channel junkie. And let's not discuss that serious addiction to Stanley Kubrick films,
Doctor Who
or
Stargate SG-1
.
A near-fanatical devotion to
BookCrossing
led me to LJ, where many fellow BXers have blogs too. Online blogging makes keeping a journal so much easier than using pen and ink. For some reason, I feel less self-conscious and practice less self-censorship writing notes to friends than I do scribbling away in a notebook that gets locked in a drawer.
One more thing: Many, if not most, of my journal entries are "friends only" which is why you might see just the silly memes and quizzes. And I often use friend filters when posting, too. Still, feel free to add me, and I may add you back with the understanding that un-adds may be done at any time by either party, with no hard feelings.
Thanks for paying me a visit!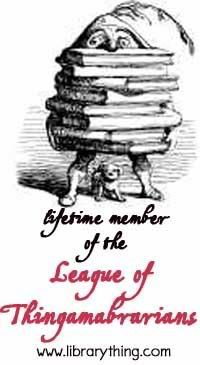 Connect
acting
,
alcoholics anonymous
,
ancient history
,
anthropology
,
archaeology
,
art
,
art deco
,
art glass
,
art history
,
art nouveau
,
autumn
,
baroque music
, battenburg lace,
bible
, black plague,
bluegrass
,
books
,
bubonic plague
,
choir
,
choral works
,
chorus
,
christianity
,
church
, church choir,
classical music
,
community theater
,
community theatre
,
cooking
,
crafts
,
craftsman houses
,
crochet
,
cultural anthropology
,
decorating
,
dixieland jazz
,
doctor who
,
drama
, dramatic arts,
early music
,
elizabethan era
,
embroidery
,
fabric
,
family
,
fiber arts
,
fibre arts
,
film
,
film noir
,
folk art
,
folk music
,
gardening
,
gargoyles
,
god
,
gothic architecture
,
grammar
,
gregorian chant
,
history
,
home improvement
,
knitting
,
language
,
liberal politics
,
liberal theology
,
liberalism
,
literature
,
marriage
,
medieval history
,
medieval music
,
methodism
,
movies
,
music
,
mythology
, norman conquest,
old houses
,
paleoanthropology
,
paleontology
,
plays
,
politics
, prairie-style houses,
progressive politics
, progressive theology,
reading
,
recovery
,
religion
,
religious history
,
renaissance
,
renaissance music
,
science fiction
,
sculpture
,
sewing
,
shakespeare
,
singing
,
sobriety
,
sociology
,
spirituality
,
stained glass
,
stanley kubrick
,
stargate sg-1
,
tea
,
teapots
,
textile arts
,
textiles
,
theater
,
theatre
,
theology
,
thrillers
,
tiffany glass
,
trans siberian orchestra
,
victorian houses
,
vintage china
,
vintage linens
,
voice
,
winter
,
world music
,
writing
,
yarn
,
zydeco

People
[View Entries]

Communities
[View entries]

Feeds
[View Entries]

Subscriptions (0)

Linking
To link to this user, copy this code:
On Dreamwidth:
Elsewhere: